Soulful Pregnancy & Sacred Birth
We are in a time where the earth and humanity have awaken and rise into a higher frequency. We are in a time where The New Children, the Star Souls are coming down to Earth. These souls are highly evolved and comes with new codes and in a new frequency. They are already living in unity, and from their higher hearts. They hold the purest, most innocence flames of divinity in their souls.

It is essential that these new children get a soulful start in life. That they come in to this world together with their soul family and earth family, and for that to happen the earth parents need to do a conscious journey, a soulful pregnancy and their own healing work. The parents need to step fully into their own souls purpose, and understand the pre-birth agreements they have to this new soul and to the other parent, to live in a conscious and soulful parenthood.

White Rose New Earth is bringing forth new wisdom and teachings to help all new souls – the New Children - to be born, to help and support the families, the women and men on their journey into a Sacred Motherhood and Sacred Fatherhood.

We are here to assist, support and help all parents and becoming soulful parents to learn a new way, so we can help these sweet new souls to blossom their uniqeness and soulgifts they are coming with. It is important that we give them a soulful start in their journey.

A Soulful Pregnancy journey is a journey for the mother and father to get to know the soul of their child, to clear and cleanse the way for the new soul to be birthed through. A journey back to deep self-love to yourself, and to your beloved baby, the father/mother, and all life there is. You will open up for a deep transition into motherhood and fatherhood.
We know that all Mother have all knowing inside of her, and also how to give a natural sacred birth to the new soul. We also know that all Father have all knowing inside of him to support, love and protect this new soul, to support the mother during the whole pregnancy, and to be the "pillar of light" during the birth.

We – the White Rose - are just here to help her and him to remember this natural and loving way, to give birth to a new soul. Welcome to meet us in a sacred space to share our visions and wisdom of this new way of Soulful Pregnancy and Sacred Birth.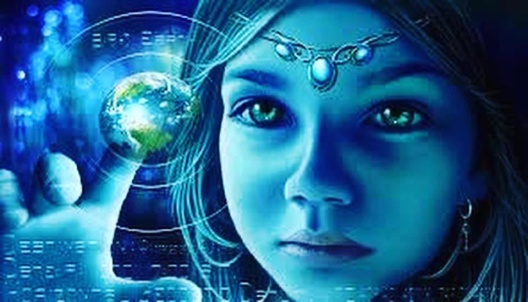 Welcome Beloved Sisters ❤
Camilla, Elli & The White Rose New Earth
A Sacred Birth in the White Rose Temple
Ellis beautiful sharing about the sacred birth last autumn
"Dear Sisters & Brothers, I want to share with you when this beautiful soul came down to earth and into physical form. The incredible space that was held for this divine event is something so unique that it is hard to explain. I do not know if this has ever happened before, that an angel, such an amazing soul, came down with his soul family in both physical and non-physical form. The space was held by the entire White Rose, all the helpers, Yeshua, Maria Magdalena, Mother Mary, Lady Venus & Sanat Kumara, The Elves, Great Mother and Father. All ancient mothers of the world stood around the whole temple and held with their wombs."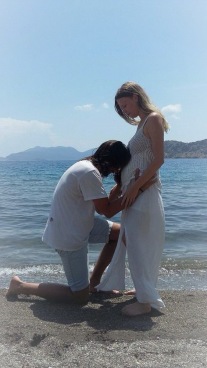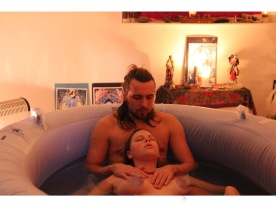 In th water of the Mother, connecting deeper soul to soul with eachother and the angel that is coming. In the beautiful space of the White Rose Temple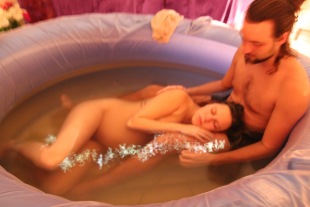 Resting, nesting, feeling, nurturing....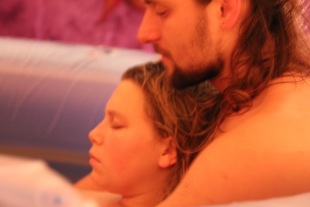 In deep devotion and love to eachother and praying together.
"The deep contact, the trust and the peace that was inside the temple was something I never experienced before. And beyond their circle a circle with the ancient fathers who held everything, and kept the direction of Johannes coming down. They held the light. And the mothers kept the energy and the whole flow of shakti to make the birth possible. What was so incredible was that there was also one of these mothers physically in the room, Camilla Åkerström. With her energy and her shakti, she could help the flow open up again when it stopped, clean and clear the whole space when needed, call in the helpers and even lead and hand over Johannes to the earth and to his earthly parents because they are from the same soul family and know each other very well."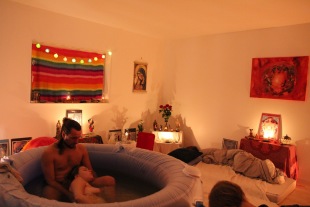 In The Sacred Space of The White Rose Temple with all the helpers and lightbeings..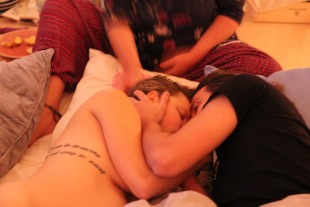 He is telling Her that she is the most beautiful woman in the world, a goddess and that she can do this, she is amazing, she is Divine.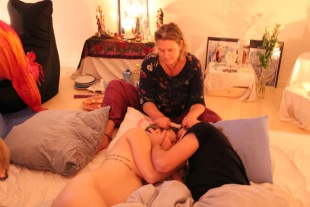 The Beloveds receiving a blessing from the Divine Mother, connecting their souls deeper and start to walk with the soul that is coming down, ready to soon meet his earth parents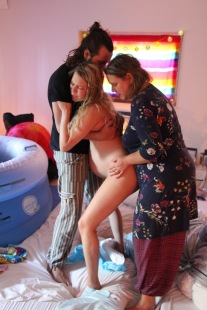 Moving the body, to get more shakti flowing, held by the divine masculine light and the Mothers womb.
"Camilla did so much more than I put in words, in this dimension and others, but what she primarily did was to let everything go as we chose. She did not go in and change or do anything, but for 36 hours she totally respected the free will and divine will. She sat and held, held everything and everyone. Because that's what these mothers do, they hold the world in their wombs. And this was my initiation to start wandering my mission here on earth as an embodied Queen Mother. And Camilla knew that I could do it, I had to choose to break through the fears that I felt, the resistance that occurred during the time when I just wanted to give up and end the whole process.
Having been on this journey for the past 3 years, I am completely convinced that it was what made the pregnancy so incredibly easy and beautiful, including the birth, although it took a long time."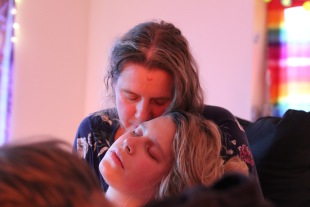 A soulful connection, no words needed.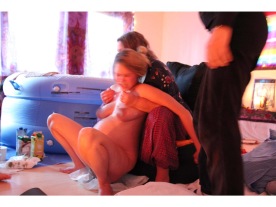 In the total Embodiment of Shakti - The Goddess.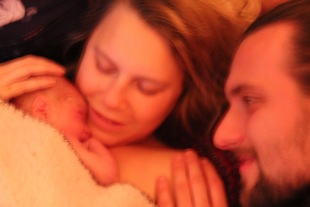 He is here, A Beloved Angel, A Child of the New Earth, A great Soul in this little body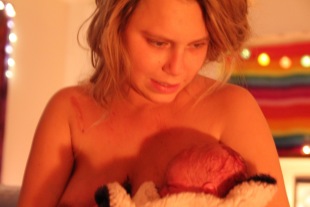 A Newborn Baby, A newborn Mother, A Love bigger than anything she has ever experienced. Now the journey begins...
"To also do this together in a relationship where you really are close to each other was something we also had to do. It was clear that without trust, without the foundation of the relationship, it becomes difficult for one's partner to really be the support that both the woman, the man and the child needs. My beloved Adrian stood like the pilar of light throughout the entire birth. He did not leave me or Johannes for a moment. Knowing his power, his humility and his immense love for us touch me deeply in the soul. This true masculine energy and vibration that he really embodied. So beautiful in his light and in his power as he often did not get or could show the world. Here he could. without him I do not know what I would have done, he made me dare to believe in myself, feeling that I could birth our child. And I felt so incredibly safe in his arms and in his total presence." - Elli Zaar
facilitator - Soulful Pregnancy & Sacred Birth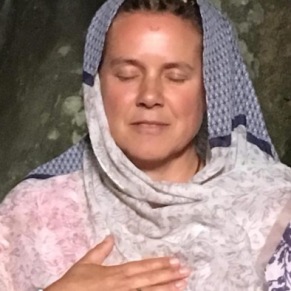 FACILITATOR CAMILLA MA RA ÅKERSTRÖM, a high priestess, wayshower, earthkeeper, visionary, gatekeeper, cosmic doula, soul guide, ascension guide, carrying the codes of the white rose, founder of the white rose temple and the white rose new earth school and is a sister and a mother on her journey. She is the main teacher in the White Rose New Earth School and are here to hold space and open new ways for divine love and the new earth to anchor in Gaia and humanity. She leads ceremonies to anchor the light on Gaia and is assisting us though the ascension process that is now. Camilla is known for her abilities to hold and co-create a vast, pure, warm, loving and sacred space, as a conduit of the energies of the Divine Mother, where women and men can embody their feminine and masculine soul on earth.
Read more about Camilla – www.camillaakerstrom.com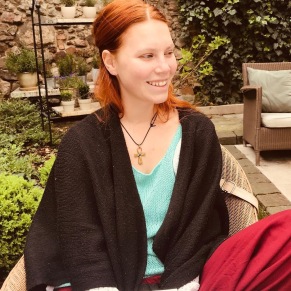 ELLI ZAAR
One of her missions in this life is to assist the new children. To help them come in to this world with a soulful start, and to help the parents really come in tune with their mission to receive a new soul. She is here to be a support and hold a safe, loving space during the pregnancy and also during the birth, as a doula. She is on her own journey in to an soulembodiment, and to completely step in to her souls path and walk/live her mission here on earth. Her deep longing is her sacred devotion to beloved mother father God. To walk with God in every breath and to embody herself as a woman and mother. Her own healing work has led her to be ready now to deepen into service.
The teachings within the White Rose has returned to earth and are part of the ancient teachings of the White Flame. The White Rose is a symbol of the White Flame and has the unique essence of Divine Union, the healed Divine Feminine and the healed Divine Masculine in union. It holds the Balance and Harmony, and it holds the codes for our eternal soul existence.

The White Rose is a meeting place for "Light Tribe friends and soul-star family". The White Rose Temple is a portal where the energies and frequency of the New Time are anchored on earth. The "White Rose Light Tribe" is a spiritual community that does not live and stay together, but who walk the path of Love within the White Rose and who cocreate in a beautiful way by sharing their gifts, uniqueness and wisdom together. We believe that it is this way, through love, community and co-creation, that we give birth to and anchor the new Time.